A casual game fromm a time when it was all casual gaming
The original game in all it's glory :D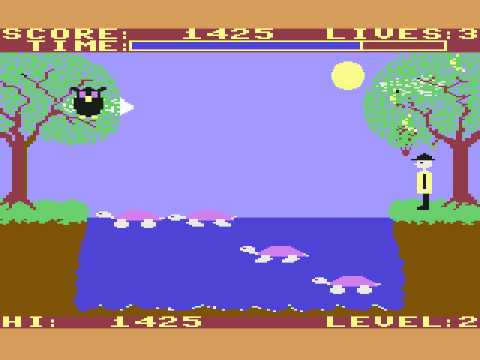 Purple turtles is a game I played a lot when I was a kid (a long time ago now). It appeared on the Select 1 compilation which included classics such as Hunchback, Kong, Galaxy, and a Q-Bert ripoff called Hexpert.
I found an image for the tape here - https://www.digitpress.com/room-of-doom/cm/displayimage.php?album=18&pid=1615
I remember playing most of those games on there an awful lot.
So much so that I've started developing one of them, Purple Turtles, as a browser game using Phaser. This is my first attempt at game dev but it's something I've wanted to do for a very long time.
I'm putting my effort up on Github - https://github.com/jjmax75/purple-turtles-2020 and it is publishing to Github pages on a merge to Master - https://jjmax75.github.io/purple-turtles-2020/